Electric Bike design, sales and repair
Hi, my name is Ants and I have been building, selling and repairing electric bikes here in Christchurch, New Zealand since 2006.
I make and sell all types of e-bikes, from quality commuting bikes right up to top spec, performance off road machines. I also love constructing custom e-bikes specific to customers individual requirements.
Off road e-bike rental / electric bike hire for rail trails is available for periods of one week or longer - ideal for campervan holidays enjoying New Zealands rail trails and off road tracks. Please contact me for more information on hiring ebikes.
I specialise in repairing all types of e-bikes and their batteries -> all makes, all models.
Please scroll down for more details about e bike servicing and repairs.
In order to give you the most choice and the best value, I do not tie myself to one electric bike brand or one franchise. I keep in stock e-bikes from both the Ezee company and the German designed Magnum ebike. I also order and sell from a wide range of other types depending what suits the you best :)
See the range of ebikes available from me at:
www.electrify.nz
&
www.ebiketeam.co.nz
My goal is to get people out of cars and onto bikes !
Contact me to discuss your needs and arrange a free test ride.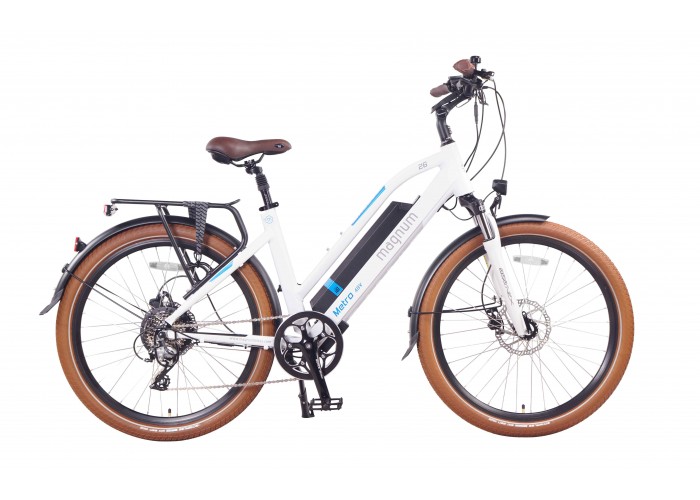 The Magnum Metro, a beautifully designed, very affordable electric bike.
The powerful 48v Samsung battery, reliable rear hub motor, easy step-through frame and the comfortable riding position make this bike fantastic value at $2,999.
With hydraulic brakes front and rear and a large 624wh battery, the Metro represents outstanding value and is perfect for both urban or trail riding.
I have a Magnum Metro and a Forza LTS (step through) available for hire.
Both are driven by a powerful, geared, rear hubmotor and have hydraulic disk brakes front and rear. Suitable for rail trails and off road use.
These off road electric bikes are a great way to see more of New Zealand when on a camper van / RV vacation in New Zealand.
If you love e-bikes and are coming to NZ on holiday, you can pick them up in Christchurch, drive and ride around NZ and then drop them off before you fly out of Christchurch again :)
Located near the Airport, I hire these off road e-bikes bikes out for a minumim of a weekend, rental terms are negotiable. For more details about off road and rail trail e bike rental, send me an email.
Electric bike servicing:
If you need your e bike serviced or repaired, get in touch. I service all makes models.
I have been trained by Gazelle in the Netherlands to service their e-bikes. I am certified to service Bosch electric bikes and with 15 years experience working on e-bikes I will do my best to repair any ebike.
Repairing electric bike batteries
has become a speciality for me.
I have built up a set of tools and equipment that allow me to charge, load test and discharge whilst measuring the coulomb's flowing in or out.
Either a single cell or an entire battery pack. This combined with an in depth knowledge of the batteries and their BMS circuitry allows me to be able to resuscitate a battery pack that has been deeply discharged. What do I mean by deeply discharged ? This is often when a battery has been left for a long time (say 6+ months) and now refuses to charge.
I also repair BMS circuitry, and chargers.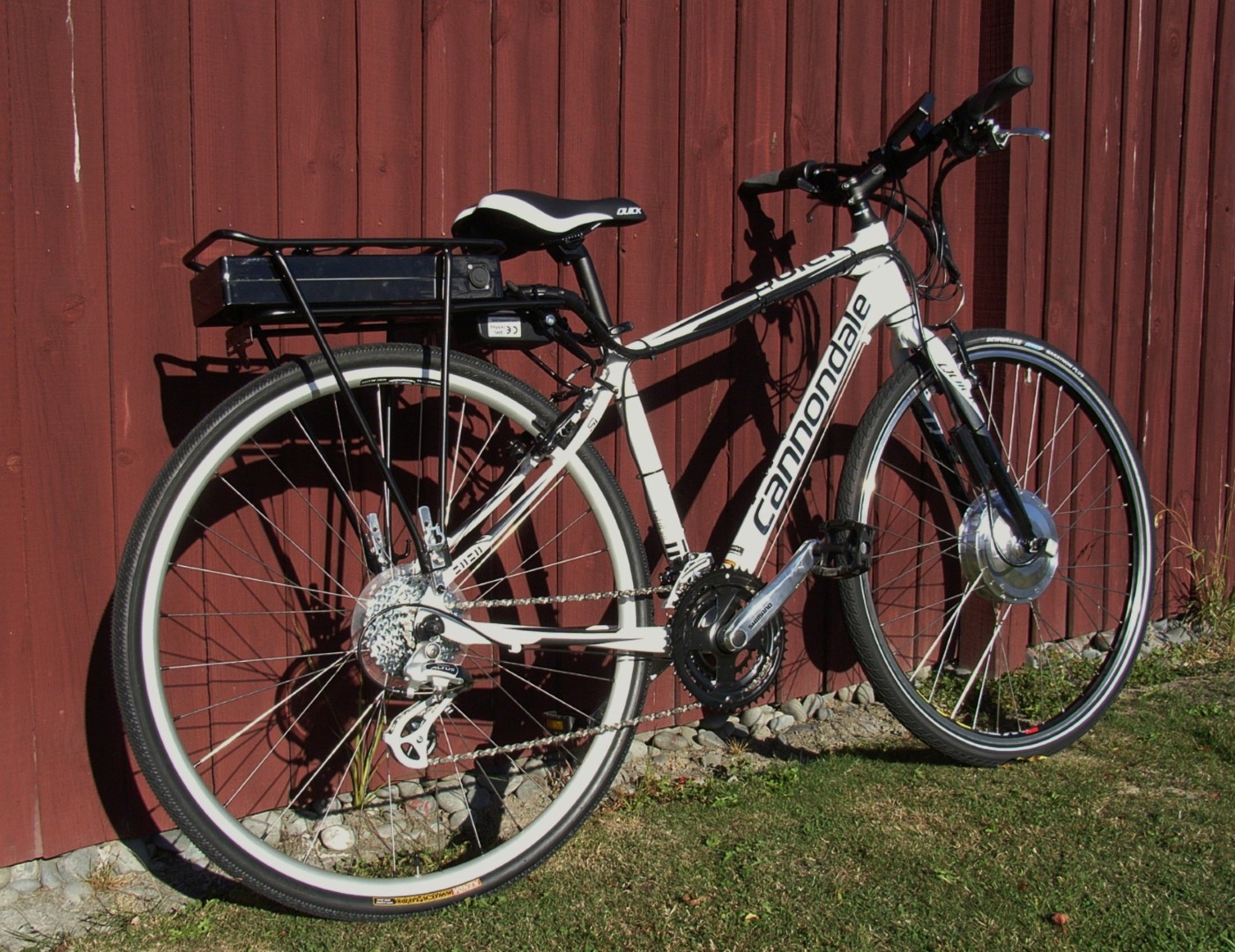 This bike was an e-bike conversion for a customer who wanted assistance climbing the final hill of a 35km commute. It had a 36v 14Ahr Lithium battery pack and an Ezee 300w geared hub motor to allow it to eat hills for breakfast.
The internal 5:1 planetary gears inside the hubmotor allow the electric motor to spin fast and produce good power, even when the wheels are rotating slowly as happens when riding up a steep hill. A lot of electric bike motors are direct drive, and struggle to climb hills.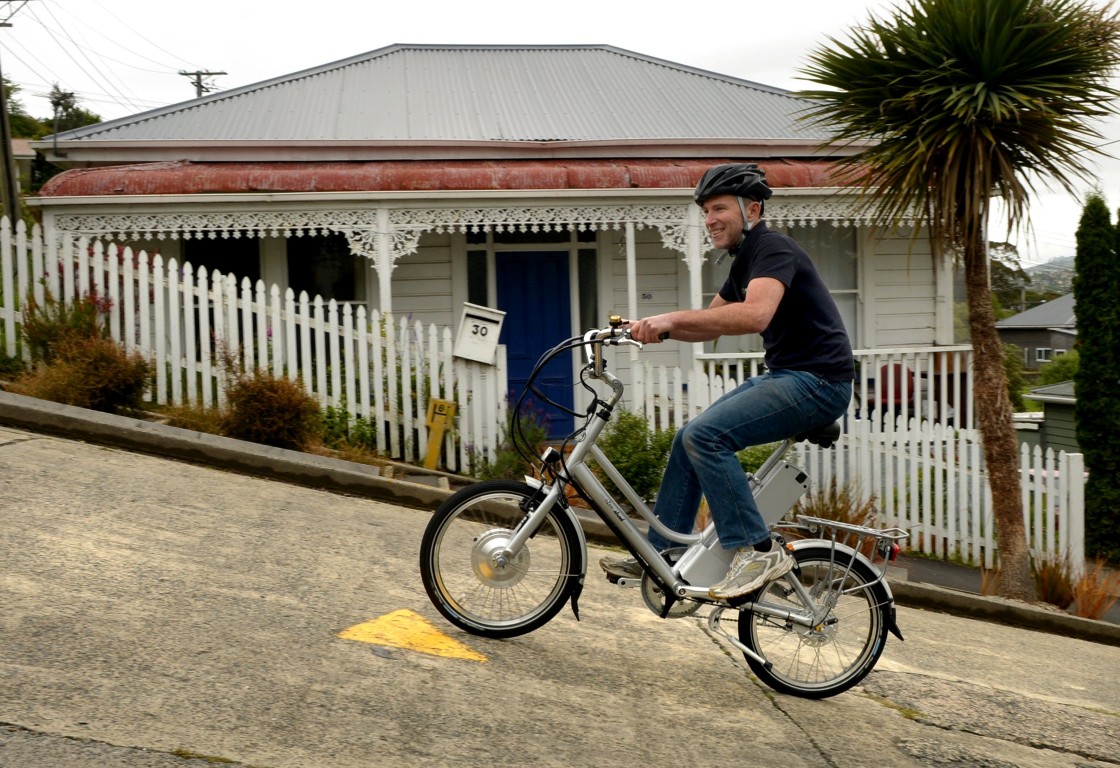 Here is a photo of a 50yr old, climbing Baldwin St in Dunedin (
the steepest residential street in the world
on an Ezee bike.
He climbed it three times that day - thanks to the powerful hill climbing assistance of the Ezee hub motors.
Here is a link to the newspaper article.
)
Copyright 1997-2021 by Anthony Field on all images/text/information and graphical materials on this website.