Bat Box repairs
Eco-ants is trained to service Bat Box III's.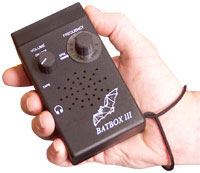 These are a real time Bat Detector. They have special high frequency microphones that pick up the Bat's sonar, clever circuitry to bring the sounds down in frequency and a speaker that so humans can hear when bats are close by.
They were manufactured in England by Stag Electronics in the 1990's.
I stock most parts and have built up a few years experience repairing these handy little units.
If your BatBox needs servicing, send me an email, my details are on the contact page :)